Ranger Firearms has Fort Walton Beach's largest selection of ammunition. Below is a snapshot of what we stock.  Please call (850) 862-5486 to confirm pricing and specific availability.
Shop Our Online Store
For even more options, Browse our online catalog and buy from the convenience of home – prices and availability are updated in real time. Select the in-store delivery option for free shipping and we'll call you when your items arrive for pick-up.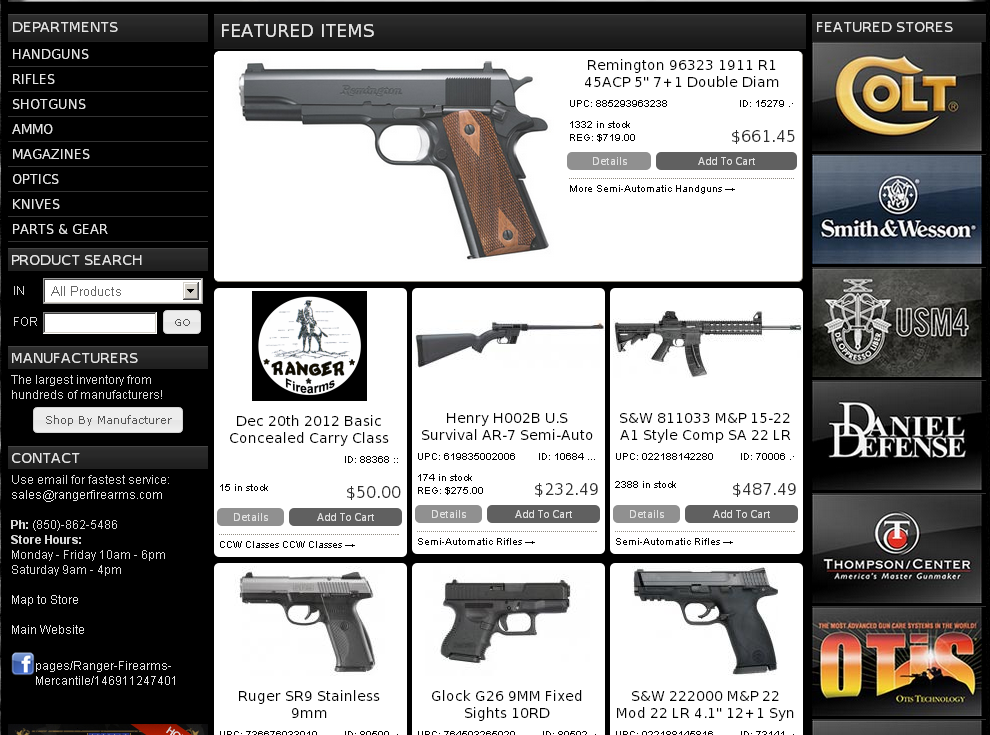 Generally Stocked Pistol Calibers:
22 Short
22 Long
22 Long Rifle
22 Magnum
22 WRF
22 TCM
25ACP
7.62 Nagant
7.62x25mm Tokarev
30 Luger
30 Mauser
8mm Nambu
32ACP
32 S&W
32 H&R
327 Federal Magnum
380 ACP (Standard and +P)
9mm Makarov
9mm Luger (Standard and +P)
9mm Largo
9mm Styre
38 Special (Standard and +P)
38 S&W
357 Magnum
357 Sig
38 Long Colt
38 Auto
38 Super
40 S&W
10mm
41 Mag
41 Long Colt
44 Russian
44 Special
44 Magnum
45 ACP (Standard and +P)
455 Whebley Mk II
45 GAP
45 Colt
454 Cassul
460 S&W
480 Ruger
50 AE
500 S&W
Rifle Calibers
17 HMR
17 Mach II
17 Remington
204 Ruger
22 Hornet
220 Swift
221 Fireball
222 Remington
5.45×39
223 Rem (5.56 Nato)
5.7×28
22-250
225 Winchester
243 Winchester
6mm Remington
25-06
250 Savage
257 Roberts
257 Weatherby
260 Remington
6.5x50mm Jap
6.5x52mm Carcano
6.5x55mm Swedish Mauser
6.5 Creedemore
6.8mm SPC
7x57mm Mauser
7x57mm Rimmed Mauser
7mm-08
7mm Remington Magnum
7mm Remington Ultra Magnum
7mm Winchester Short Magnum
7-30 Waters
270 Winchester
270 WSM
270 Weatherby
280 Remington
7.35mm Carcano
7.5mm Swiss
7.5mm French
30 M1 Carbine
30 Remington
30-30 Winchester
308 Win (7.62 Nato)
308 Marlin
30-06
300 Ruger Compact Magnum
300 Winchester Magnum
300 WSM
300 Weatherby Magnum
300 Savage
7.62x39mm
7.62x45mm
7.62x54R
7.7 Jap
303 British
32 Winchester Special
8x57mm Mauser
8x56R Hungarian
338 Marlin
338 Win Mag
338 Lapua
35 Remington
35 Whelen
375 H&H Mag
38/40 Winchester
38/55 Winchester
44/40
444 Marlin
450 Bushmaster
45-70 Government
50 BMG
577 Martini Henry